Not Only the Things That Have Happened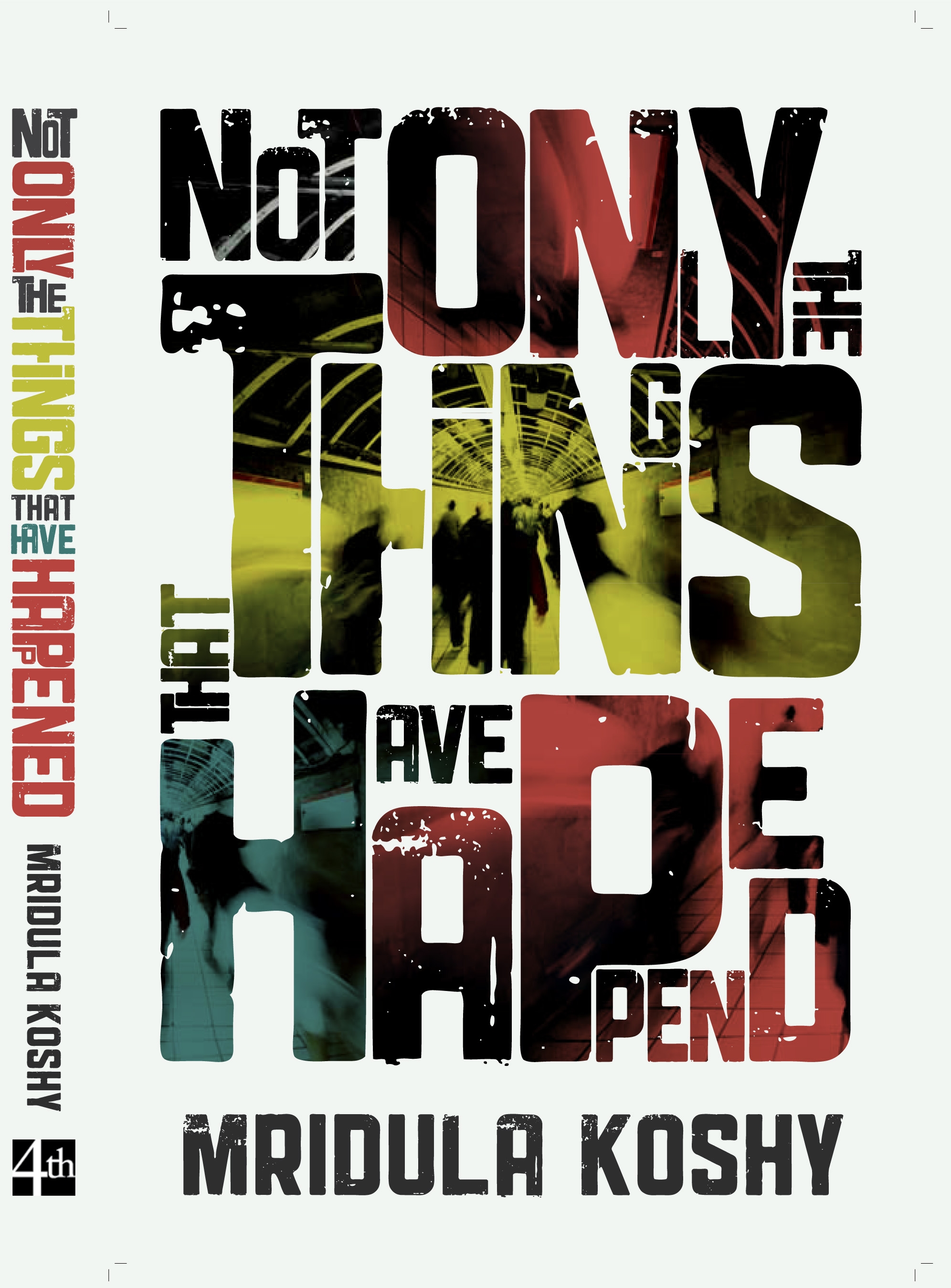 Not Only the Things That Have Happened is a kind of literary diptych, like those artworks that consist of a pair of painted surfaces joined in the middle by a hinge, so that they face in two very slightly different directions. It is the poignant pairing of two hinged stories, of a mother and a son who were separated by circumstances many, many years ago...We hear the story from various angles: From Tessiebaby, Annakutty's half-sister; from Father Paul, the empathetic village priest; from Gretchen Oster, the woman who first adopted Asa, and managed to lose him. The result is a novel that is complex, yet so elegantly written that it manages to read lightly and pleasurably, without ever showing its inner workings. And that is what makes it so special. Koshy, who divides her own life between India and Portland, Oregon, is able to capture the worlds of both the protagonists, in Kerala and in the US, with admirable authenticity and acuity...It is a remarkably self-assured work, and it feels slightly humbling to be in the presence of a literary talent like this. I have a feeling we'll be hearing a lot more of Mridula Koshy in the times to come.
--Anvar Alikhan, India Today, January 7, 2013 (Full review here.)
[Not Only the Things That Have Happened] leaps nimbly between times and styles and its characters' points of view. The sheer quality of Koshy's prose is probably the best reason to read her, and in the earlier sections in particular the book's structure offers her a great deal of scope to play with style, as well as to weave in the cadences of colloquial Malayalam...
Koshy manages to touch upon the politics of adoption, language, exile, identity. Such a novel could easily have fallen into the trap of being dull and worthy. That it doesn't is something of a triumph; this is a fantastic book.
--
Aishwarya Subramanian, Hindustan Times, April 20, 2013
(Full review
here
.)
...
Koshy is a deft literary seamstress, intricately weaving a tapestry of voices and offering us a rich, layered glimpse into the workings of memory, community and family.
--
Janice Pariat, The Sunday Guardian, February 3, 2013 (Full review here.)
Why read
Not Only The Things That Have Happened?
Because Mridula Koshy shows you exactly how to write about loss without giving into melodrama. This novel, Mridula's first after her debut as a short story writer with
If IT IS Sweeet,
is light with its touch, addressing the weight of loss and the
transformative
role of memory role of memory...Despite its unconventional structure (with which Mridula tries, successfully, to mimic the constant mutating nature of memory), the reader is pulled into the story by the sheer power and beauty of writing.
--Pooja Pillai, People, May 17, 2013. (Full review here.)
In prose that is layered and complex...
the novel draws you in the way an epic does.
--
Anupama Raju, The Hindu, February 3, 2013. (Full article here).
I
n a story that spans a 36-hour period and travels between in Kerala and Midwestern United States, Mridula Koshy paints a complex web of memories, both real and imagined...yet
the sadness of the past and the shifting sands of time don't make the world of
Not Only…
a difficult one to access. On the contrary, once you enter Annakutty's memories, it is difficult to withdraw. Instead, you sink deeper and deeper into the lives and losses that Koshy portrays so beautifully.
--Joanna Lobo, DNA, January 20, 2013 (Full review here).
T
he immersion in the lives of the people of this region is almost Faulknerian in its intensity, along with the milieu against which they have come of age: The influence of Catholicism, the grip of caste, trade union and Left movements and the distance between the impoverished village and the bustling city...Koshy's
primary interest is in the impact of past bereavement on present-day lives and she follows her characters' befuddled journeys and their real and imagined histories with an empathetic eye.
--
Sanjay Sipahimalani in
Mint Lounge, December 21, 2012
(Full review
here
.)
Motherhood looms very large – and in many forms – in the book as well. Koshy's contemplative eye takes in several maternal figures...Despite the drama,
Not Only the Things That Have Happened
is far from schmaltzy, rather feeling its way through the kinds of lack that cannot be blotted out. The novel retains Koshy's characteristically measured, poetic voice with its undertow of unease.
--
Naintara Maya Oberoi in
Time Out India.
(Full review
here
.)
If It Is Sweet (Australian Edition)
A short-story collection of rare eloquence and maturity, Mridula Koshy's
If It Is Sweet
mines the lives of ordinary people in the great metropolises of India...What is surprising is the intensity and freshness of the author's prose, her gift for the dramatic compression of opposite emotions, and the striking sense of drama she brings to her characters' interior lives.
--Cameron Woodhead's Pick of the Week, The Age (Australia), January 21, 2012
The matter of India will loom large in the 21st century. This collection of stories looks at the country's class conflict, castes and the new capitalism. It is character-centred - women and men, workers and children. The struggle is just to stay afloat across generations (the title story). Labour is not depicted as being dignified but nor does Koshy condescend to the people in her pages. Impressive
.
--The Age,
Bookshop
,
January 15, 2012
If It Is Sweet (Indian Edition)
…beautifully spare and evocative, with turns that are riveting, surprising, and revealing of the mysteries of the human psyche.
--Manjushree Thapa, Outlook Magazine, June 8, 2009. (Full review here.)

What counts more than the narrative is the language — tender, poetic, informed by our mutilingual milieu. The stories retrieve to fiction, if not to history, marginalised lives around us. But they aren't shown as objects of condescending pity, but as real beings with their own joys and longings.
--K. Satchidanandan, Tehelka, June 21, 2009. (Full review here.)
...this is absolutely rigorous and distinctive work, and there is a sound and a sense in these stories that make Indian fiction a bigger place.
--Chandrahas Choudhury, Mint Lounge, June 20, 2009. (Full review here.)

This riveting collection, at once nuanced and adventurous, will stay in the reader's memory for the way it probes away at the complexities of class and money, transgressions and violations.
--Naintara Maya Oberoi, Time Out Delhi, July 9, 2009. (Full review here.)

Here is a natural stylist, with an easy, accessible turn of phrase…Hers is a determined, stealthy eye, born of fierce concentration, often conjuring up a rustic quiet: 'Now her pregnant beauty startles him like the fish that rustle and slip past his shins in the flooded fields of paddy he bends over to seed.'
--Rajni George, India Today, June 22, 2009. (Full review here.)

The writing is evocative, layered and masterful... [Koshy's] fascination with the underbelly is something she has in common with Aravind Adiga, but where his writing is terse and action- oriented, her stories delve deep into the head space of these faceless, marginalised people.
--Sunaina Kumar, Mail Today, Sunday June 7, 2009
Reviews of Koshy's story in 21 Under 40 (Zubaan, 2007)
How much more real, and empathetic is the lesbian in Mridula Koshy's "The Large Girl", so delicately drawn down to the last, grief-ridden sentence: "Do you miss me? A thousand and one chances will come and go in this small city, in this small world. I will never see you again." There is sexual imagery in this story, too, but it's bred into the waft and weave of the tale.
—Sheba Thayil, The Hindu Literary Review, July 1, 2007 (Full review here.)

"…do feminist love stories exist? On what terms? And how does one wash that cloying taste away? Perhaps the answer lies in Mridula Koshy's "The Large Girl," the story of the 'extramarital' relationship between onetime classmates: romance threaded into the mundane of shared cigarettes on a terrace, recurrent (and impotent) quarrels and partings, comparisons to other lovers, imperfection ("Mostly I am thinking, 'Why do I like her? She is so vulgar' "). But something rings disturbingly true: mostly love is messy, frustrating, imperfect."
—Disha Mullick Bose, Biblio, May/June, 2007

"Mridula Koshy's 'The Large Girl' and Diane Romany's 'Ferris Wheel' are bold, evocative.—Brinda Bose, IndiaToday, April 30, 2007

"The Large Girl" by Mridula Koshy is about an extramarital lesbian fling, and honestly, the lesbian angle is not what makes the story sensational, it's got a lot more going for it.
—Rupa Gulab, DNA Sunday April 22, 2007
Reviews of Koshy's story in First Proof 3 (Penguin India )
Somehow, the fiction section of such anthologies is always less rewarding. The stories, though competently told, rarely open up new territory. One exception is Mridula Koshy's story about an impoverished Kerala family in the US , "When the Child was a Child". For a change, Indians have problems relating to each other, instead of relating to American society. I wasn't surprised to read that the author, who lives in New Delhi , was once a Union and Community Organiser in the US . Her work is certainly the most accomplished in this section.
— Eunice de Souza, Time Out Mumbai, Issue 16 April 4, 2008. (Full review here.)

Among the fiction writers, Mridula Koshy, Temsula Ao and Noureen Sarna leave an indelible impression. Despair and fortitude fight an unequal battle in "When the Child Was a Child", Koshy's haunting portrait of an impoverished U.S.-based Malayali family coming apart at the seams as it struggles to survive in a squalid tenement building reverberating with "the quiet misery of spoons moving in plates".
— Mita Ghose, The Hindu Literary Review, Sunday, February 3, 2008 (Full review here.)